On this page, you can find links to:
1) Film and video productions
2) Electronic Texts
3) Critical Essays and Notes
4) Some Images 
*****************************************************************
1) Film and Video Productions
Find Major Barbara on Youtube
The first film adaption of Major Barbara was brought to life on the big screen in 1941. Directed by Gabriel Pascal, it stars Wendy Miller and Rex Harrison in the lead roles.
Here is the movie.
•http://www.youtube.com/watch?v=zQKoB4WsiNw
Click here to watch the trailer in black and white!
Learn more about Major Barbara's 1941 cast members here.
There are also several play adaptations of Major Barbara, one of which was performed in 2008 at the Shakespeare Theatre Company in Washington, USA. Produced by Ethan McSweeny, the trailer was posted to Youtube in order to garner views. Click here to watch it.
Another performance was held in 2010 at the Bedford Community Theatre and was directed by John Thompson. It features Debra Ablezer in the title role. Click here to watch the trailer.
Here is also a link to the Tacoma Little Theatre's adaptation of the play from 2010.
Read a few reviews here.
List of Major Barbara Productions
In the United Kingdom
Royal Court Theatre, London, UK, 1905
Chichester Festival Centre, Sussex, UK, 1988
National Theatre, London, UK, 2008
In the United States of America
On Broadway at Playhouse Theatre, USA, 1915
Guild Theatre, New York, USA, 1928
Martin Beck Theatre, New York, USA, 1956
Morosco Theatre, New York, USA, 1956
Circle in the Square Theatre, New York, USA, 1980
American Airlines Theatre, New York, USA, 2001
2. Electronic Texts
The Project Gutenberg E-text of Major Barbara, by Bernard Shaw
Major Barbara on FullBooks
eNotes Study Guide version of Major Barbara
Major Barbara on SparkNotes
Download Major Barbara from Archive
Download Major Barbara from fulltextarchive
ebooksread download and document file of Major Barbara
Major Barbara Full Text on eserver
3. Critical Essays and Notes
Undershaft: An Analysis of Criticism of George Bernard Shaw's Major Barbara, by Doug Ray
Major Barbara: Theme Analysis
Summary and Analysis of Shaw's Preface to Major Barbara
Shaw's "Major Barbara": Collection of Critical Essays (20th Century Interpretations), Edited by Rose Zimbardo on Amazon.com
Major Theme Analysis of Major Barbara
Bernard Shaw: An Essay as First Aid to Critics
4. Some Images pertaining to Major Barbara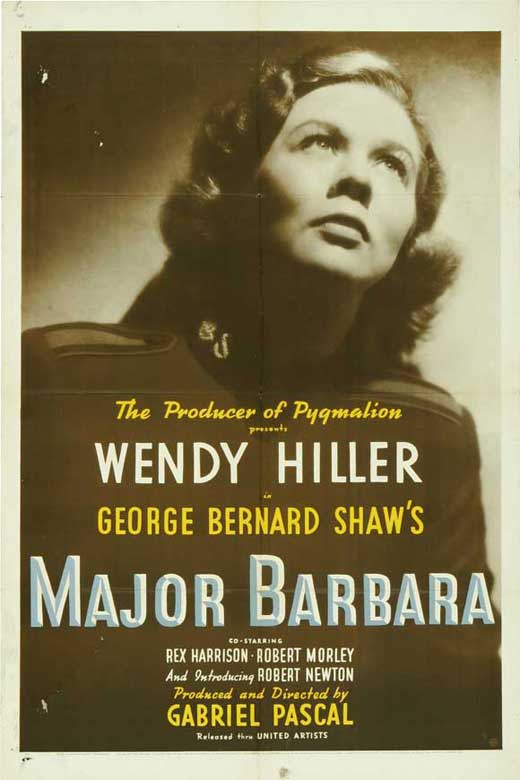 1941 Movie Poster for Major Barbara
Shakespeare Theatre Company
Pittsburg Irish and Classical Theatre (2003)
National Theatre Poster for Major Barbara