Pygmalion (1938) Directed by Anthony Asquith and Leslie Howard
After convincing Shaw to let him create the film adaptation of Pygmalion, Hungarian producer Gabriel Pascal later went on to produce many other film adaptations of Shaw's plays, such as Major Barbara, Androcles and the Lion, etc. Owing that Shaw retained ultimate control over the production, he was able to add in new scenes and characters to the film that were previously deemed unnecessary within the play. Also, the film makes an unlikely turn for the original script as it leads to a happy ending, a concept of which Shaw was not fond. It also maintained its controversial ending, making its lead actress the first to ever swear in British film.
Major Barbara (1941) Produced & Directed by Gabriel Pascal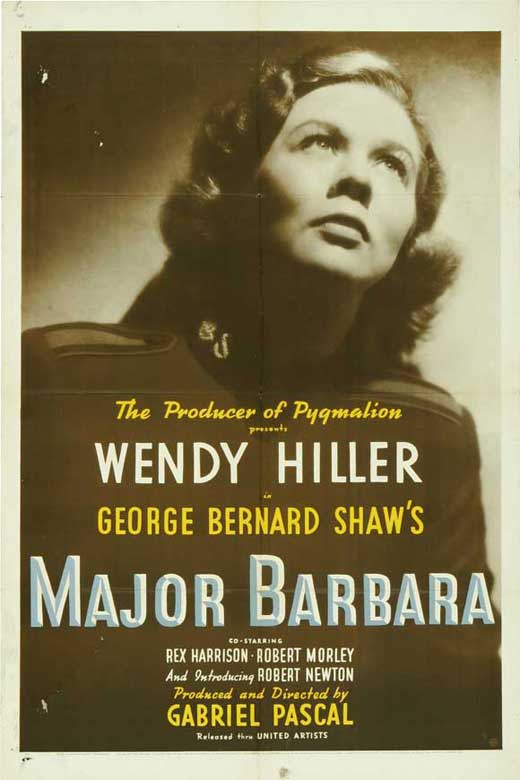 Pascal's production of Major Barbara goes on to star Wendy Hiller once again as the titular character: Major Barbara Undershaft. Major Barbara was filmed during the Blitz bombing of 1941 and though the cast and crew had to repeatedly take refuge to hide from bombs, production never ceased and the film was completed on time.
Caesar and Cleopatra (1945) Directed by Gabriel Pascal
A bit of misfortune came with the production of this film adaptation. The film ran into multiple delays due to the fact that it was being realized during World War II. Also, the titular actress, Vivien Leigh, tripped and miscarried during one of the scenes. The film recounts the tale between Caesar, a roman conqueror and Cleopatra, the then Queen of Egypt. As Caesar takes control over Egypt, he also takes it upon himself to resolve a feud between Cleopatra and her brother, though he ultimately develops affections for the Queen. Caesar and Cleopatra was Shaw's first film in technicolor and his last to see before he passed. The film didn't do very well in the box office and almost ended Pascal's film career, though after Shaw's death, he went on to film one more Shaw play: Androcles and the Lion.
Androcles and the Lion (1952) Directed by Chester Erkshine
Clip 1
Clip 2
Androcles and the Lion served as Pascal's last film ever produced by himself before his death two year later. Alan Young plays Androcles, a young fugitive Christian tailor on the run from Roman persecutors. During his escape, he befriends a lion but is capture once again to fight in an arena. In a twist of events, Androcles is pitted against his new lion friend.
Alan Jay Lerner's My Fair Lady (1964)
based on Shaw's Pygmalion

Kate Middleton performing in My Fair Lady